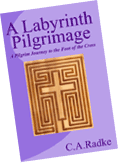 "Journey Notes" is a devotional blog of thoughts and hymns for the pilgrim journey to the foot of the cross, following the path of the Cross Labyrinth.  It is prepared to be used in conjunction with A Labyrinth Pilgrimage, a book of devotions that you can purchase through Amazon.  The daily hymns are the same as those suggested in the Leader's Guide edition.
While A Labyrinth Pilgrimage and Journey Notes are especially suited to a Lenten devotion from Ash Wednesday through Easter, it can be used at any time as a journey through the Bible from creation to the resurrection of Jesus, the Christ.  Another book of devotions covering the time from Easter to Pentecost is being written to guide pilgrims on the return journey, with an emphasis on celebrating the gift of the Holy Spirit and encouraging pilgrims to answer the calling in the Great Commission.  A leader's guide and Journey Notes will be prepared for that, as well.
I pray that these posts will help you on your journey.  I pray that you will share your experiences, too, so that we can all learn from them.
Follow the path!
CARadke