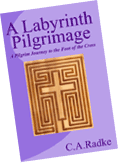 A Labyrinth Pilgrimage,
A Pilgrim Journey to the Foot of the Cross,
a devotional book by C. A. Radke, available for purchase from: Price: $6.95

Leader's Guide Edition also available with themes, questions, and hymn suggestions to follow the pilgrim path in small groups.

Kindle versions are now available, too:

To help you focus on your journey to the cross during your daily readings, consider purchasing a wooden finger labyrinth exclusively available through the HymnStore at our sister site, HymnSite.com.
---
Featured in:
---
A simple guide
As an introduction to the history and use of prayer labyrinths, feel free to download and use this simple guide, Walking the Cross Labyrinth. Take your first pilgrim journey to the foot of the cross, and we hope you will return over and over.
Follow the Path!
---
About the book...
For centuries labyrinths have been used as tools for personal pilgrimage, meditation and spiritual formation. In "A Labyrinth Pilgrimage," author C. A. Radke uses daily devotions to take the reader on a spiritual journey in a progression from creation to Easter. The journey follows the path into his unique, seven-circuit Cross Labyrinth design, which always leads the pilgrim to an encounter with God at the foot of the cross.
While it can be used at any time of the year, the book is especially suited to a Lenten devotional study, with the journey beginning on Ash Wednesday and ending on Easter Sunday. Each devotion corresponds with a segment of the labyrinth, connecting the daily studies with the pilgrim's journey. Weekly themes can also be used as the basis for shorter, separate studies in these units:
Creation

In the Beginning
Days of Creation
Poetry of Creation
It was good
Walking with God

Separation

The Attraction of Creation
The Forbidden Fruit
The Mysterious and Beguiling Creature
In Spite of All Warning
Together in Hiding, but All Alone
Cast Out, but Never Abandoned
Peace in Promise

The Human Condition

Honoring God in His Way
Honoring God in Our Way
Relationships Gone Awry
Action and Reaction
A Habit of Decay
In the Calm After the Storm
Peace in Promise

People of God's Choosing

Choosing Abram
Choosing Rebekah
Choosing Israel
Choosing Moses
Choosing Joshua
Choosing David
Peace in Promise

Division and Demise

A Family Divided
A Nation Divided
Protection
Peril
Destruction
Prophecy
Peace in Promise

The Savior Comes

Something to Ponder
Good Tidings of Great Joy
Safe Journey
Safe Return
Growing in Grace
Celebration of Love
Peace in Promise

Overcoming Every Challenge

Challenge of Hunger
Challenge of Fame
Challenge of Power
Challenge of Priests
Challenge of Kings
Challenge of Death
Victory of Life