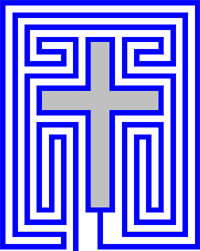 Welcome to The Cross Labyrinth website. Come here to find useful information, meditations, and resources for your own personal pilgrimage to the foot of the cross.
A Labyrinth Pilgrimage for Kindle
Kindle versions of CARadke's A Labyrinth Pilrimage are now available.
Labyrinths have traditionally been used for hundreds of years as tools for use in prayer, meditation, and spiritual development. This labyrinth was developed in the 21st century to continue those traditions, and to focus more deeply and more completely on the mission of Jesus Christ, who came to conquer sin and give us life.
If The Cross Labyrinth or other resources on this site have been meaningful for you, please to let us know.
Here is a brief description of some of what you will find on this website:
This section talks about the origins and symbolism in The Cross Labyrinth, from the basics of its seven-circuit design to its unique connection with the Easter cycle of the church calendar.
A full size version of The Cross Labyrinth has been used for several years on a retreat center in Spring, Texas, but it is not movable. Finger labyrinths are useful as small, personal versions of a larger labyrinth. This section of the website provides a brief guide for your journey.
For those seeking a longer journey than the brief guide, C.A.Radke has prepared a book containing a separate devotion for each line in the labyrinth. By starting the journey on Ash Wednesday, the pilgrim arrives at the foot of the cross on Easter Sunday. Additional material is being prepared for the journey out of the labyrinth, with the end of the journey on the day of Pentecost.
The first full sized copy of The Cross Labyrinth was installed at the Cramer Retreat Center in Spring, Texas, and you are encouraged to walk the path. The designer, C. A. Radke, prepared the first Lenten pilgrim journey in 2008, posting resources on HymnSite.com. Links to other sites with useful information will be posted on this page.
The Cross Labyrinth design and all materials on this website are protected by applicable copyright law. This page explains what you may do without permission, or, if permission is necessary, how to make your request.